Electric cars operated by car-sharing service BlueSG in Singapore. Image: CNA/Gaya Chandramohan
SINGAPORE: Singapore is taking its climate action a step further with new initiatives announced on Tuesday (Mar 8), including plans to make every Housing and Development Board (HDB) town "EV-ready" (electric vehicle) ahead of schedule, and help more businesses improve energy efficiency.
The Government said last month that it would bring forward the country's target to reach net zero "by or around mid-century", a move Senior Minister Teo Chee Hean described on Tuesday as "necessary, practical and implementable", given international developments in technology and carbon markets. 
Last week, a major UN report released dire warnings about climate change inaction, with findings showing that irreversible climate impacts are happening faster and with greater intensity than ever before.
In particular, rising temperatures could expose Asia to threats like food scarcity and human-health risks, with an increasing likelihood of heatwaves and floods as well as water- and vector-borne diseases.
"We are already seeing some of these effects – stronger and longer heatwaves, unprecedented droughts and floods, sea-level rise and storm surges affecting communities all over the world," noted Mr Teo, who is also Coordinating Minister for National Security and chairman of the Inter-Ministerial Committee on Climate Change.
Speaking in Parliament during the ongoing Committee of Supply debate, he said the government will review its 2030 nationally determined contributions (NDCs) – a national roadmap that charts how the country plans to reach net zero – along with its long-term low-emissions development strategy (LEDS).
The Government had said previously that it would decide on a specific net zero year, and make a formal revision to Singapore's LEDS later this year, after it consults with industry and citizen stakeholder groups.
The five ministries spearheading the national Green Plan also provided updates on existing efforts and announced new initiatives to advance the country's push towards sustainability.
The five are the ministries of sustainability and the environment (MSE), trade and industry (MTI), transport (MOT), national development (MND), and education (MOE).
Greener transport
While "significant steps" have been taken to build an efficient and sustainable transport system, Transport Minister S Iswaran said more must be done to work towards net zero emission.
To this end, a new target has been set – to reduce Singapore's land transport emissions by 80 per cent from its 2016 peak of 7.7 million tonnes "by or around mid-century".
This will be a reduction in absolute emissions, Mr Iswaran said.
Currently, the land transport system accounts for 15 per cent of Singapore's emissions today, making it the third-largest source of emissions.
"This is an ambitious goal that will require policy moves, new technologies, and behavioural shifts across our land transport system. Along with the decarbonisation of the power grid, electrification of vehicles is a key initiative that will have a material impact," he said.
Singapore will also accelerate its target of making every HDB town EV-ready by 2025, earlier than its previous target of the 2030s. 
This comes after a major survey of switchrooms and substations across the island conducted by the Land Transport Authority (LTA) to assess the additional electrical capacity needed to support EV charging.
To support the implementation of EV-ready towns, Mr Iswaran said EV charging points will be installed at nearly 2,000 HDB car parks over the next three to four years.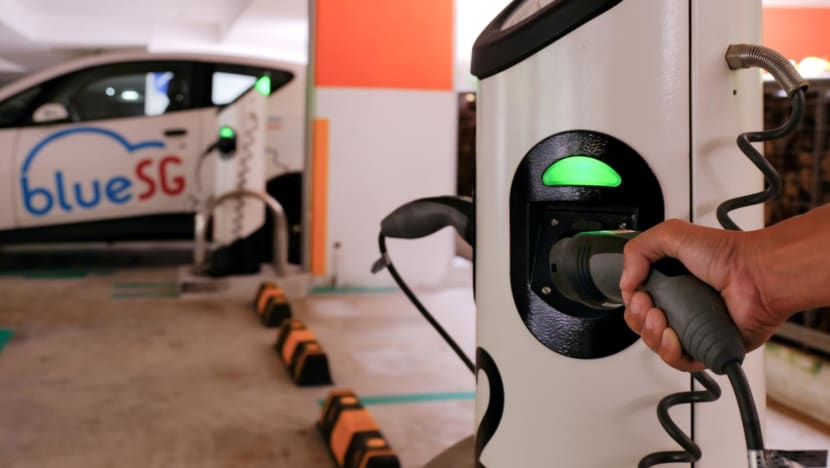 Meanwhile, the Government will also continue to work closely with various stakeholders to electrify more vehicle segments, said Mr Iswaran.
This includes electrifying half of Singapore's public buses as well as taxi fleet by 2030, and extending the statutory lifespan of electric taxis from eight to 10 years.
Improving energy efficiency
Businesses will also get extra help to improve their energy efficiency, as Singapore transitions to a lower-carbon economy.
On Tuesday, Sustainability and the Environment Minister Grace Fu announced enhancements to an existing grant to co-fund energy-efficiency projects.
Under the National Environment Agency's (NEA) Energy Efficiency Fund, businesses looking to invest in energy-efficient technologies will be able to receive a maximum grant support of 70 per cent of qualifying costs from Apr 1.
Currently, the cap for qualifying costs per project is set at 50 per cent.
In a joint release, MSE and NEA said the grants awarded to projects will vary, depending on the carbon abatement achieved.
This means that projects that can reduce more carbon emissions will be able to enjoy higher grant support.
Speaking in Parliament, Ms Fu said the increased support cap will help companies to adopt energy efficiency measures, which will go towards reducing their energy costs and carbon emissions.
She added that the grant application and disbursement process will also be simplified to save businesses time and costs.
As of January, 27 projects have received co-funding support from the energy efficiency fund, achieving an estimated annual carbon abatement of around 1,600 tonnes – the equivalent of taking about 500 cars off the road.
The projects include retrofitting LED lighting, high-efficiency air-conditioning systems as well as variable speed air compressors and boiler systems.
Investing in water technologies and waste recovery
With Singapore looking to reduce the amount of waste sent to its landfill and to optimise its limited resources, the Government has also allocated more funding to drive new initiatives in water technologies and resource circularity.
A sum of S$80 million will be channelled towards supporting research and development on sustainable solutions to recover and find useful applications for resources from key waste streams such as e-waste, plastics and food.
Meanwhile, S$87 million will go towards funding R&D efforts in water technology areas including desalination and water reuse, used water treatment, and waste reduction and resource recovery.
This is on top of the S$51 million funding received by PUB last year, under the Competitive Funding for Water Research as part of the current five-year national Research, Innovation and Enterprise (RIE) Plan – RIE2025.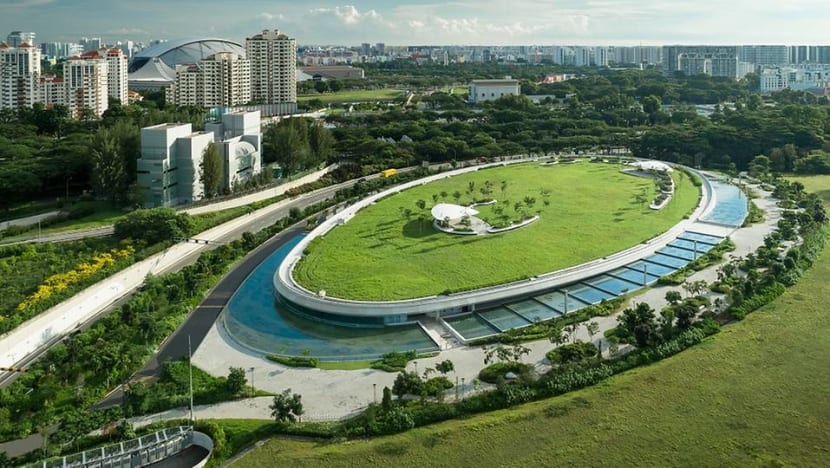 Ms Fu said the investments will go towards developing high impact solutions for Singapore's water needs.
"Beyond that, research and innovation will also be an engine for green growth, spurring private sector R&D spending, job creation and technology spin-offs in the water industry and adjacent sectors," she said.
Developing Green R&D Capabilities
To achieve sustainability as a competitive advantage, the capabilities of institutions such as universities, polytechnics, and ITEs as well as the competencies of Singapore's graduates and workforce will be the "real needle movers", said Minister for Education Chan Chun Sing.
He added that the deep research and innovation capabilities of these institutions position them well to advance Singapore's sustainability goals.
Through projects that they work on with industry, polytechnics can enable local enterprises to reduce their carbon emissions and achieve sustainability goals, said Mr Chan.
He pointed out that autonomous universities are also leveraging their research capabilities for sustainability R&D, and using their own campuses as "living laboratories" to support national research and talent development efforts.
"Our institutions also play an important role in equipping our youth and workforce with the skills and competencies for the growing green economy," he said.
"We can expect more new jobs to emerge, and more … jobs to adopt green practices. We therefore need to invest in 'green upskilling' for our workforce, so that they can seize the new opportunities presented by green growth," he added.
Greening Singapore's Economy
Sustainability must also underpin Singapore's economic strategies, said Trade and Industry Minister Gan Kim Yong.
And as Singapore transitions into a low-carbon economy, decarbonising its energy sector will be key as it currently accounts for about 40 per cent of the country's total emissions.
To do this, the Government will enhance the energy efficiency of power generation plants, find ways to accelerate solar deployment, as well as tap on renewable energy beyond Singapore's shores, Mr Gan said.
"Singapore's transition to a low-carbon economy is critical not only to ensure that we are aligned with global efforts on sustainable development, but also to leverage new opportunities in the emerging green economy," he added.
This includes new green areas such as green finance and sustainable tourism.
Mr Iswaran said the evaluation gave the ministry "confidence" to accelerate the implementation of its plans. 
"Over the past five decades, Singapore's economy has built up significant strengths and competitive advantages. We have adapted to various challenges, and constantly reinvented ourselves to stay relevant in the regional and global economy," Mr Gan said.
"Our transformation to a low-carbon economy is yet another chapter in the Singapore story. It will be a challenging journey, but an exciting one. The Government will partner our industries, our businesses, and workers, as we undertake this journey."
Building a more sustainable environment
To support Singapore's ambitions to be a "City in Nature" and improve urban sustainability, the Government will invest more in R&D to explore solutions that tap on nature and help strengthen the country's ecological, climate and social resilience.
An additional S$64 million will be invested under the Government's Cities of Tomorrow programme, which supports R&D across the value chain and focuses on projects that have a high potential for practical implementation and commercialisation, said National Development Minister Desmond Lee.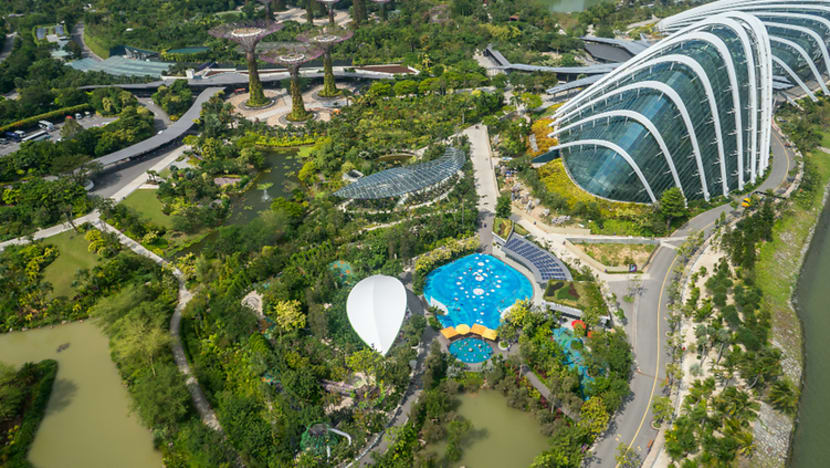 Mr Lee added that an additional S$45 million has also been committed to fund the enhanced Green Buildings Innovation Cluster (GBIC) programme to support the development, test-bedding and deployment of green technologies and solutions for buildings. 
"We will accelerate the commercialisation of these solutions through industry partnerships and help grow the local ecosystem of firms with green building expertise," he said.
"This way, our companies can compete better in serving the growing global demand for sustainable urban solutions and take the lead to drive sustainable development across the Asia Pacific, home to some of the fastest growing economies in the world."
Authors: Matthew Mohan and Vanessa Lim